Storm Shelter Roof Assembly Design
The Perform-A-Deck and Series 300 metal roof and deck assembly sets the standard for the hurricane and tornado enhanced roofing envelope.
The system is engineered and tested to resist extreme winds and debris impact, as defined by the FEMA 361 Design and Construction Guidance for Community Safe Rooms for resistance to wind uplift and impact from wind-borne debris.
Each system solution…
Can withstand wind speeds of more than 250 mph
Withstands wind uplift pressure up to 555 psf
Meets FEMA 361 missile impact requirements
Impervious to water infiltration
Aquatic Facility Roof Assembly Design
Aquatic facilities present a challenging environment for roof assemblies. You might think an epoxy coating on the interior exposed roof deck would be enough when addressing finished roofing over a pool, but that is just one piece of a much bigger puzzle. IMETCO & Martin Deck Systems have been addressing these challenges for many years by providing the following advantages:
Each high performance SYSTEM covered by a 20-year limited joint warranty includes:

Correct amount and location of insulation within the assembly
Stainless steel fasteners and the assurance that there are no through fastened components from the exterior roof
Proper selection & placement of gypsum boards, vapor barriers, sub-girts & underlayments
Tnemic coatings (optional) to provide additional protection against corrosion
Convenience of working with a single-source on the entire assembly
Perforated Panels
Perforated wall panels are perfect for screen walls and equipment screens. Our Element, Latitude, Cor-Pan and R-Panel systems are available with perforations in steel, aluminum and zinc.
Historical Replication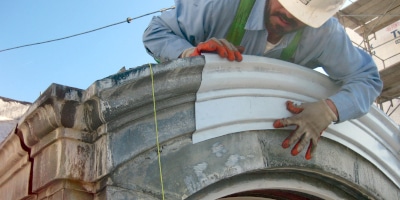 Looking to replicate an original element on a historical building? Our team can help with your next restoration project.
Custom replicated sheet metal components
Premium materials like zinc, copper & stainless steel
Steel Edge Creteplank: a great deck option for traditional slate & tile roof systems
Curved Metal Roofing & Wall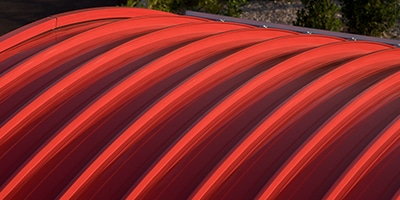 The first U.S. manufacturer to curve symmetrically designed structural panels, IMETCO is able to achieve the tightest curves in the industry and curve longer panels than most.
IMETCO offers several curving options, including a standard convex curve, a concave "reverse" curve, and a continuous and smooth concave-to-convex "S" curve.
Working with a curved wall? IMETCO offers curved Latitude wall cladding
Tapered Metal Roofing
Our quality control does not begin in the factory, but rather with the dedicated engineering team that works closely with the designer and contractor on each and every project to eliminate installation challenges, reduce waste, and ensure that IMETCO's tapered panels provide the stunning visual impact desired.
IMETCO panels are custom-tapered to ensure a perfect fit. Tapered panels, which can exceed 80 feet in length, are factory formed from a single piece of metal – not pieced together from joined metal. They are manufactured with stiffening beads adjacent to the vertical panel legs only, preserving the flat, clean look of the panel's center.
Field Curved & Tapered Panels
From our factory-quality forming equipment to our onsite fabrication experts, IMETCO's field formed panels offer the same warranted, proven performance as those manufactured in our plant.
IMETCO's field roll equipment is full-service factory-quality featuring 16 roll stations and tension leveling – it is not a scaled-down secondary or "portable" model. It is shipped with a de-coiler to your job site on a 45-foot trailer, then set up and operated on-site by the same talented metal craftsmen who manufacture IMETCO's high-performance metal systems in our factory.
Long Panels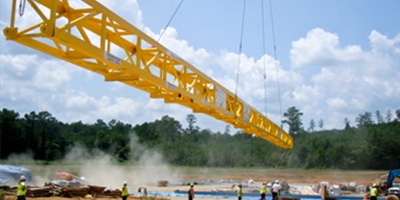 Long panels are often desirable, since end-laps are eliminated and visual continuity is maintained. IMETCO's ability to form and ship panels up to 85 feet in length, and to field form longer panels, opens a world of possibilities.
However, once long panels are fabricated, whether in the factory or on the job site, the installer is still faced with getting them up on the roof. Lifting long and/or curved panels can dramatically increase the risk of injury or property damage if the proper equipment is not used, particularly when the installer uses lifting devices that are field-fabricated or "home-made."
Improper lifting can also increase the likelihood of oil canning, weaken the structural integrity of the panels, and result in panel damage ranging from minor dings to total destruction of the panel.
IMETCO recommends using its Engineered Spreader Bar to lift long and curved metal roofing panels. Using this unique apparatus will help installers:
Limit liability
Reduce risk of injury or property damage
Protect the design and condition of panels
Maintain engineered quality of roofing panels
Expedite delivery of materials to elevated location
Increase productivity, which can reduce labor and crane rental costs
IMETCO's Spreader Bar is composed of five individual 40-foot sections, which can be combined as needed to lift panels up to 220-ft in length.
IMETCO supplies a complete spreader bar assembly, which includes upper and lower rigging, tag lines, assembly tools and detailed instructions with photos and illustrations. The unique upper and lower rigging equipment supplied with every rental makes preparing panels for lifting remarkably fast and easy. It is easily adjustable to accommodate multiple rigging requirements on the same project, and very quick and simple to set up.
IMETCO's Field Services department is available to consult with you on project site staging, and in collaboration with a national crane company, can also help you determine crane requirements and sizing for your specific project site.