IMETCO's engineering team brings a wide-range of expertise in project evaluation, design assistance, product testing, and installation support to assist you at every stage of your project.
Our engineers and technical staff will help you bring design ideas to reality with IMETCO metal building envelope systems backed by a variety of value-added engineering services.
WUFI Analysis
WUFI analysis methods have been validated world wide and provide realistic simulation of hygrothermal conditions in building components and buildings under actual climate conditions.
Project Renderings
Interested in installing metal panels over your existing building facade? Let our team show you what our systems will look like on your building.
Design Assistance
Design collaboration is our bread and butter. Driven by attention to detail and a desire to provide the best solution to our clients, our team is ready to help.
Wind-Uplift Analysis
Our team can provide a wind-uplift analysis for your next roofing project. This crucial test will show us the necessary clip spacing that will allow your roof system to perform.
Building Code Compliance Assessments
Building codes are constantly evolving. Our team can be your resource to ensure that your next design meets code with the perfect IMETCO solution.
Custom Fabrication
We call ourselves innovative for a reason. Do you have something custom in mind? Let our team help bring your idea to life. We love a challenge.
Custom Shop Drawing Packages
Over the years, we've seen our share of difficult projects that required custom shop drawing packages. Contact our team if you are looking for the same.
Performance Testing
We make product testing a priority. Many of our products are backed by rigorous testing and we strive to keep our products up to speed with code requirements.

As specialists in the metal building envelope, IMETCO representatives employ a hands-on approach to being your technical adviser through every phase of your project.
In addition to working closely with you to address your unique needs, Architectural Representatives serve as your single point of contact to leveraging all of the value-added services IMETCO has to offer.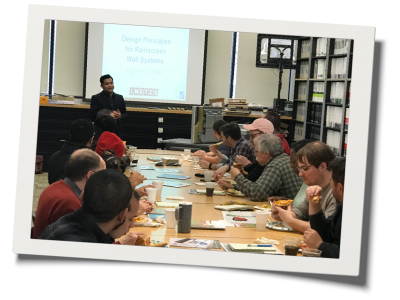 For Architects
Let our representatives help you with expertise in metal products, design, construction, local building codes, specifications, performance criteria and more. Our reps pride themselves in being "go-to" resources.
For Contractors
Our reps will help you with shop drawing review and installation guidance to ensure that your team is ready for a successful installation.

Over the years, IMETCO has been fortunate enough to attract and retain some of the most talented craftsmen in the industry. Decades of experience, attention to detail, and a genuine desire to please our customers is what drives our fabrication specialists to manufacturer the highest quality metal systems.
Our manufacturing facilities house the state-of-the-art equipment and tools used by our artists to craft our performance inspired solutions. For projects requiring job-site fabrication, IMETCO provides the same factory-quality equipment and talented craftsmen with our field rolling and field curving services.

Our Field Services team helps ensure products are installed correctly the first time and every time. A qualified factory-authorized technical representative can visit your job site to help your crew get started on the right foot.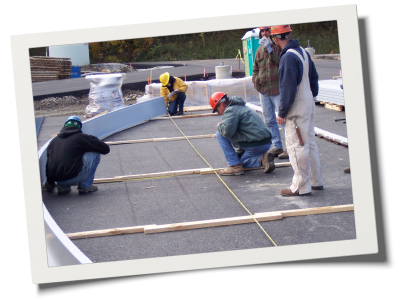 On-Site Installation Training
Proper installation is crucial for a system to perform. Our field services team can help your installation go smoothly by teaching your crew the proper techniques.
Problem Resolution & Guidance
No matter how well prepared you are, problems will come up at times. Our team has the necessary experience in the field to resolve problems quickly and efficiently.
Shop Drawing Review
A thorough review of shop drawings and installation instructions to address job sequencing, material handling & staging, required tools, project specific installation methods and flashing considerations.
Project Inspection
IMETCO offers in-progress and final job inspections, which includes a thorough assessment of compliance with shop drawings, review of installation methods and techniques as well as a review of tools and applications. We are also available to provide guidance on project site staging, field forming/field curving and spreader bar usage.