Pool Roof Assemblies by Martin Deck Systems
Aquatic facilities present a challenging environment for roof assemblies. You might think an epoxy coating on the interior exposed roof deck would be enough when addressing finished roofing over a pool, but that is just one piece of a much bigger puzzle. IMETCO & Martin Deck Systems have been addressing these challenges for many years by providing the following advantages:
Protect the acoustical metal deck and screws attaching the metal deck from corrosion.
A high performance polymer coated corrosion resistant acoustical metal deck, fastened with 316 stainless steel screw deck deck fasteners, was ultimately chosen. The polymer powder coating was applied after the perforations were punched in the steel deck so the holes were completely coated. For additional protection, the fiberglass acoustical batts located in the deck flutes were wrapped in thin visqueen plastic.
Provide moisture protection for the roof assembly from both inside and outside the building.
Our high performance air and vapor barrier was completely and smoothly adhered over the water resistant roof board to stop moisture mitigation into the insulation. The air and vapor barrier was also properly tied into roof transitions and edges of the building. Our high temperature AquaBlock roofing underlayment was applied to the top side of the insulation to waterproof and protect the inside of the building.
Provide high performance protection from future condensation.
There will be no condensation worries, as our air and vapor barrier was positioned directly below the high density R-30 continuous polyiso insulation. The continuous zee girt was also embedded within the insulation, assuring no condensation as a result of penetration through the air and vapor membrane from the outside of the building.
Each high performance SYSTEM covered by a 20-year limited joint warranty includes:

Correct amount and location of insulation within the assembly
Stainless steel fasteners and the assurance that there are no through fastened components from the exterior roof
Proper selection & placement of gypsum boards, vapor barriers, sub-girts & underlayments
Tnemic coatings (optional) to provide additional protection against corrosion
Convenience of working with a single-source on the entire assembly
Natatorium Roof Enclosure Design 101 (Program #0920 NRD)
Why do roofs on natatoriums fail? What can be done to prevent future headaches caused by poor moisture management? Find this out and more by scheduling an AIA presentation with our team today! Our course on Natatorium Roof Enclosure Design takes a deep dive into roof enclosure design over extreme environments.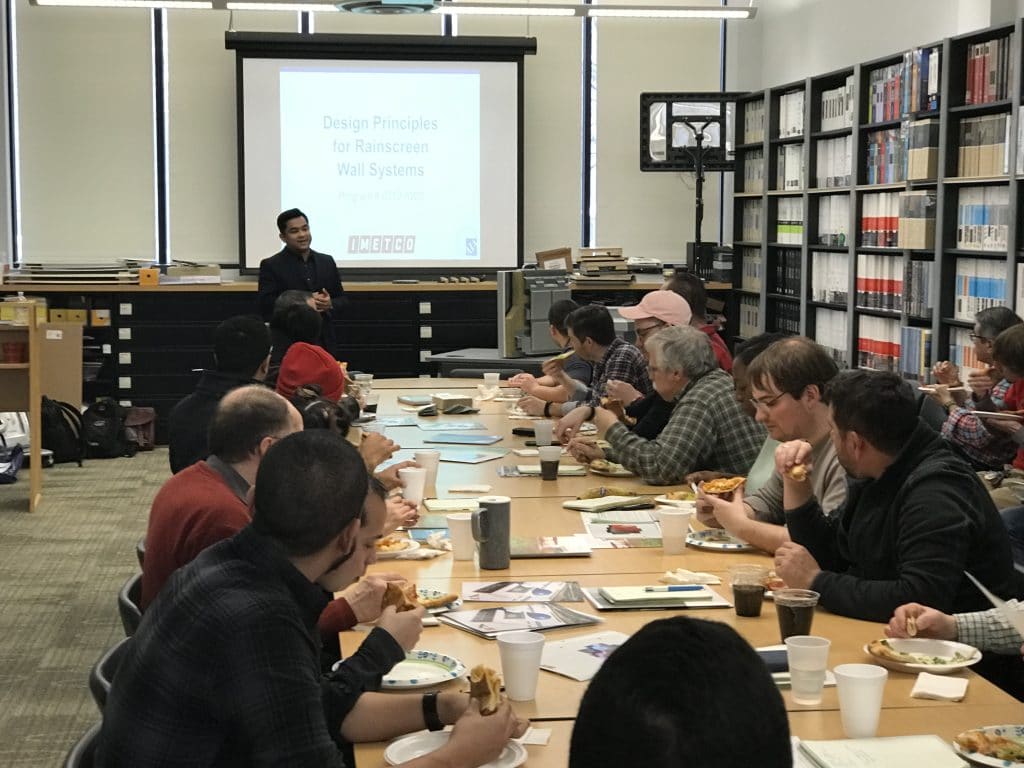 Learning Objectives:

Explain How Moisture Intrudes and Affects Roof Assemblies Over Pools and Caustic Environments
Summarize the Typical Materials of Construction and Advantages Associated With Material Selection in Metal Deck Assemblies
Identify the Functional Performance-Based Characteristics of a High-Performance Roof Enclosure System
Analyze Various Preferred Natatorium Roof Assembly Details and Applications
Deaconess Aquatic Center  Evansville, IN
Housing the largest competitive pool in the country, the Deaconess Aquatic Center is a premier facility designed to perform with over 54,500 sf of our Perform-A-Deck DTA roof deck assembly protected by an epoxy underside coating. 
Merriam Community Center Merriam, KS
The brand new Merriam Community Center is protected by IMETCO engineered solutions including a Perform-A-Deck DTA roof deck assembly as well as Latitude and Element wall panels on the exterior of the building. 
Sycamore HS Natatorium Roof Replacement Cincinnati, OH
After an inspection to find the source of leaks over the pool, the maintenance crew at Sycamore High found trapped moisture within the existing roof assembly. The solution was our Perform-A-Deck VSA system.
Republic Bank Foundation YMCA Louisville, KY
We've worked with the YMCA to design and supply roof assemblies on new facilities across the country. For the Republic Bank Foundation YMCA in Louisville, designers chose a Perform-A-Deck Acoustical assembly.
Tualatin Hills Aquatic Center Beaverton, OR
The owner of Tualatin Hills Aquatic Center was very pleased with the outcome they received with this very attractive looking finished roof, the performance of which is backed up by a long-term warranty commitment for the complete roof assembly.
Madonna Pro Active Health Center Lincoln, NE
For this project, acoustical performance was high on the list of requirements when decision makers considered roofing options. Designers chose our acoustical assembly for the gym and pool areas, creating a pleasant environment for recovery and rehabilitation.