Stay Safe with Series 300
Seek Shelter from the Storm
The Series 300 and PerformaDeck Metal Roof and Deck Assembly
meets FEMA 361 design guidelines for metal roofing on community storm shelters!
Withstands wind speeds of more than 220 mph


Withstands wind uplift pressure up to 550 psf


Meets FEMA 361 missile impact requirements


Impervious to water infiltration 
Click Here to learn more!

SS-145 and SS-225
Architectural Snap-on Seam Panels
The SS panel's 1-inch snap-on seam cap contains a factory installed sealant, which provides exceptional resistance to water infiltration. Its symmetrical design makes the SS panel a highly efficient roofing system by simplifying miter cuts for projects with valleys, hips and dormers.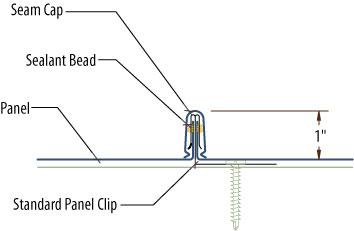 SS Design Characteristics:
Available in 14˝-inch and 22˝-inch panel widths
Symmetrical design reduces labor and material waste
Custom trim and flashing details available
Ideal for change-of-plane detailing
Double bead of factory-injected sealant in the seam cap
Concealed sealant helps improve weather-tightness
Accommodates a roof change in plane with a continuous panel
Requires 3:12 minimum slope
Install over solid substrate with underlayment


Material Availability:
24 and 22 gauge steel
.032 aluminum


Click here to download an SS Panel Sales Sheet PDF, or log in to download details, specifications and technical information.