Watch Video: Field Curved Metal Roof
Series 300 Metal Roof panels, some as long as 115-feet, are curved in the field with a compound "S" curve, then lifted via engineered spreader bar to the roof deck.

SS-145 and SS-225
Architectural Snap-on Seam Panels
The SS panel's 1-inch snap-on seam cap contains a factory installed sealant, which provides exceptional resistance to water infiltration. Its symmetrical design makes the SS panel a highly efficient roofing system by simplifying miter cuts for projects with valleys, hips and dormers.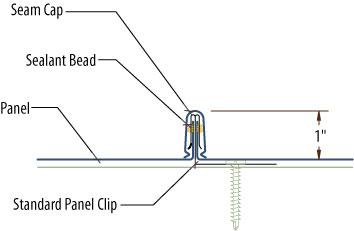 SS Design Characteristics:
Available in 14½-inch and 22½-inch panel widths
Symmetrical design reduces labor and material waste
Custom trim and flashing details available
Ideal for change-of-plane detailing
Double bead of factory-injected sealant in the seam cap
Concealed sealant helps improve weather-tightness
Accommodates a roof change in plane with a continuous panel
Requires 3:12 minimum slope
Install over solid substrate with underlayment


Material Availability:
24 and 22 gauge steel
.032 aluminum


Click here to download an SS Panel Sales Sheet PDF, or log in to download details, specifications and technical information.