Stay Safe with Series 300
Seek Shelter from the Storm
The Series 300 and PerformaDeck Metal Roof and Deck Assembly
meets FEMA 361 design guidelines for metal roofing on community storm shelters!
Withstands wind speeds of more than 220 mph


Withstands wind uplift pressure up to 550 psf


Meets FEMA 361 missile impact requirements


Impervious to water infiltration 
Click Here to learn more!

Metal Soffit Panels
IMETCO's SP-120 soffit panel systems offer a low-maintenance, highly-reliable, concealed fastener system for decades of beauty and durability. Suitable for commercial and residential applications, SP-120 panels are 12 inches wide with a "vee" groove every 6 inches on center.



SP-120 Soffit Design Characteristics
Available in lengths up to 12 ft.
Can be vented to allow air circulation and under-eave ventilation (full and half venting options available)
Attached with concealed fasteners at maximum 24 inches on center
Install left to right over furring channels spaced at 2-ft. o.c. maximum, or over solid substrate


Material Availability
.032 aluminum in IMETCO's standard colors
Panels also available in .025 aluminum in Solar White


Warranties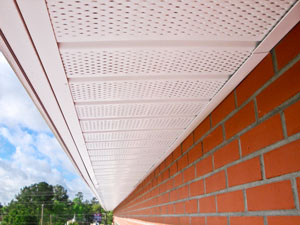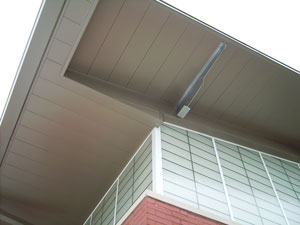 Click here to download an SP Series Sales Sheet PDF, or log in to download details, specifications and technical information.