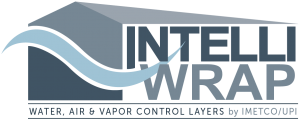 The IntelliWrap family of products address the major control layers of a functional building enclosure: moisture, air and vapor.
Available in both permeable (breathable) and non-permeable, we offer sheet and spray applied solutions for many applications.
Sheet Membranes
Lightweight and easy to install, IntelliWrap sheet membranes provide high performance in both permeable and non permeable assemblies.
Spray Applied
IntelliWrap spray applied membranes can be easily applied to many tricky substrates where sheet membranes cannot be used. Available in both permeable and non-permeable as well as low temperature.
Below Grade
For below-grade vertical applications, IntelliWrap provides both spray applied and sheet membrane solutions.
Roof Underlayments
High temperature self-adhering roof underlayments from IMETCO provide excellent adhesion and UV exposure.