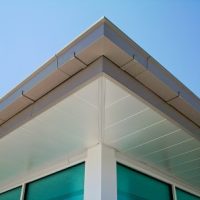 IMETCO Storm-Class Gutter System
Storm Class Gutter Systems from IMETCO offer strength and curb appeal.
IMETCO's engineering team provides project-specific gutter and downspout calculations to ensure proper sizing and placement and provides custom details incorporating the gutter system into your IMETCO metal roof system. Robust brackets hold gutters in place even during the most extreme weather conditions and optional heavy-duty downspout covers protect your investment from collision damage.
Gutter System Design Characteristics
Factory-formed gutters and downspouts
10′ standard lengths (additional lengths available
Pre-finished fluoropolymer coated steel and aluminum*
Post-painted fluoropolymer custom colors available
Mitered and fully welded corners, end caps & transitions
Heavy-duty, non-penetrating external brackets
Heavy plate aluminum internal gutter straps
Available Materials
Steel: 24, 22, and 20-gauge
Aluminum: .032″, .040″, .050″, .063″, .080″ and .125″
Zinc: 0.8mm and 1.0mm
Copper: 16, 20, and 24 ounce
Warranty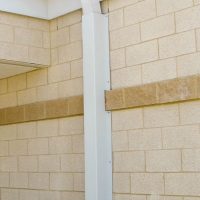 IMETCO Storm Class Downspout Cover
This heavy-duty downspout cover perfectly complements the storm class gutter system and protects the downspout from impact damage and theft.
Downspout Cover Design Characteristics
Heavy gauge aluminum, up to .250″
Slotted holes for hammer activated (drive pin) anchor fasteners
Fluoropolymer post-painted to match
Excellent lead times
10′ standard length (additional lengths available)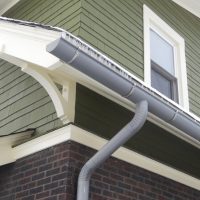 IMETCO Classic Gutter Systems
The half-round gutters, downspouts and accessories comprising IMETCO classic gutter systems are available in a wide variety of materials and colors and include everything you need to protect your building from water run-off.
Classic Gutter Design Characteristics
Standard gutter sizes: 4, 5, 6, 7 and 8-inch
10 and 20-foot standard lengths
3, 4, 5, 6, 7 and 8-inch round downspout options
Gutter and downspout accessories

End Caps
Hangers
Outlets
Elbows
Curved DS Straps
Miters
Available Materials
Zinc: 0.8mm and 1.0mm
Copper: 16 and 20 ounce
Steel: 24 and 22-gauge
Aluminum: .032″, .040″, .050″