Stay Safe with Series 300
Seek Shelter from the Storm
The Series 300 and PerformaDeck Metal Roof and Deck Assembly
meets FEMA 361 design guidelines for metal roofing on community storm shelters!
Withstands wind speeds of more than 220 mph


Withstands wind uplift pressure up to 550 psf


Meets FEMA 361 missile impact requirements


Impervious to water infiltration 
Click Here to learn more!

Architectural Standing Seam Metal Roofing System
SnapLokTM is a high-performance architectural metal roofing system designed for improved resistance to wind uplift and water infiltration. It features 1¾-inch interlocking seams with concealed clips and factory applied sealant, which allows unlimited thermal movement and maintains structural integrity.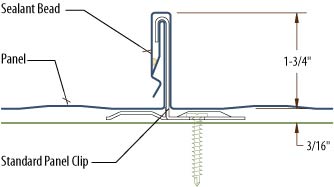 SnapLok Design Characteristics:

1¾-inch interlocking standing seam
Excellent wind uplift resistance
Simple one step installation - no seaming tools required
Heavy duty 18 gauge concealed clips
Unlimited thermal movement
Factory-applied seam sealant, completely isolated from the clips
Available in 10-, 12-, 16-, and 18-inch panel widths
Panel striations offered as a standard
Can be installed over solid substrate with slopes as little as 1½ :12
Can be installed over open purlins with slopes greater than 3:12
Available in a wide variety of materials and colors



Warranties*

20-year finish warranty for Kynar® fluorocarbon coating
Materials and workmanship warranty
Watertight warranty on qualifying applications

* Sample warranties are available and we encourage their inclusion in
specifications as a guide during the bidding process



Testing

ASTM E-1592 uniform static air pressure
ASTM E-1680 air infiltration
ASTM E-1646 water infiltration
UL 580 (Class 90) windstorm rating
UL 790 (Class A) fire resistance



Click here to download a SnapLok Sales Sheet PDF, or log in
to download details, specifications and technical information.