With proven manufacturing capabilities and dedicated engineering support, IMETCO is the only choice for tapered metal roofing panels.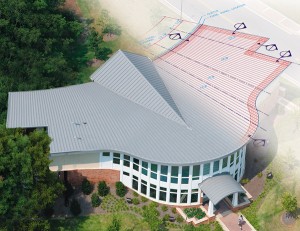 Our quality control does not begin in the factory, but rather with the dedicated engineering team that works closely with the designer and contractor on each and every project to eliminate installation challenges, reduce waste, and ensure that IMETCO's tapered panels provide the stunning visual impact desired. Our dedicated manufacturing, engineering, and project management teams work closely with designers and contractors to address installation challenges, reduce waste, and maintain performance characteristics of the roofing system.
IMETCO panels are custom-tapered to ensure a perfect fit. Tapered panels, which can exceed 80 feet in length, are factory formed from a single piece of metal – not pieced together from joined metal. They are manufactured with stiffening beads adjacent to the vertical panel legs only, preserving the flat, clean look of the panel's center.
Contact IMETCO for more information about tapered panels and engineering support.