Long panels are often desirable, since end-laps are eliminated and visual continuity is maintained.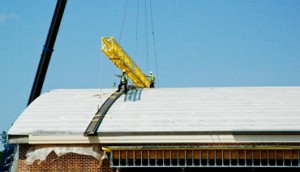 IMETCO's ability to form and ship panels up to 85 feet in length, and to field form longer panels, opens a world of possibilities.
However, once long panels are fabricated, whether in the factory or on the job site, the installer is still faced with getting them up on the roof. Lifting long and/or curved panels can dramatically increase the risk of injury or property damage if the proper equipment is not used, particularly when the installer uses lifting devices that are field-fabricated or "home-made."
Improper lifting can also increase the likelihood of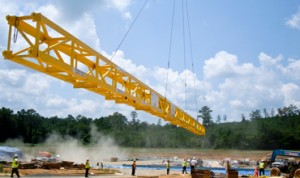 oil canning, weaken the structural integrity of the panels, and result in panel damage ranging from minor dings to total destruction of the panel.
IMETCO recommends using its Engineered Spreader Bar to lift long and curved metal roofing panels. Using this unique apparatus will help installers:
Limit liability
Reduce risk of injury or property damage
Protect the design and condition of panels
Maintain engineered quality of roofing panels
Expedite delivery of materials to elevated location
Increase productivity, which can reduce labor and crane rental costs
IMETCO's Spreader Bar is composed of five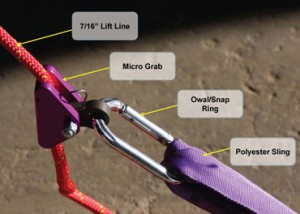 individual 40-foot sections, which can be combined as needed to lift panels up to 220-ft in length.
IMETCO supplies a complete spreader bar assembly, which includes upper and lower rigging, tag lines, assembly tools and detailed instructions with photos and illustrations. The unique upper and lower rigging equipment supplied with every rental makes preparing panels for lifting remarkably fast and easy. It is easily adjustable to accommodate multiple rigging requirements on the same project, and very quick and simple to set up.
IMETCO's Field Services department is available to consult with you on project site staging, and in collaboration with a national crane company, can also help you determine crane requirements and sizing for your specific project site.
Contact IMETCO for more information about renting our one-of-a-kind Engineered Spreader Bar.