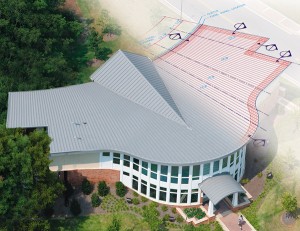 A thoroughly engineered shop drawing package is crucial to the success of every project. In addition to the standard details that are available for download, IMETCO offers shop drawings that are produced in-house by IMETCO engineers and customized to the unique requirements of your project. This helps simplify and expedite resolution of any design challenge you may face during project planning and installation. These comprehensive, engineered packages help ensure optimum product performance, proper installation, and code compliance, thereby reducing potential liability for design professionals, installers, and building owners.
Shop drawing packages address myriad design and liability considerations, such as:
Wind uplift requirements
Water control, drainage and run-off
Ice damming
Snow retention
Watertight detaill
Thermal movement allowances
Aesthetic considerations
Proper product installation
Coordinating transitional conditions and adjacent building materials
Building code compliance
Optional P.E. stamping (available for any state)
For the Installer: Supporting Installation Guidelines and Drawings
Roofing contractors face many challenges on the job site. IMETCO's shop drawing packages included detailed, illustrated step-by-step installation guidelines to help you with installation challenges such as:
Varied experience
Varied installation techniques
Language barriers
Training of new crew members
Contact our engineering team today to find out why our customers consider IMETCO's shop drawing packages to be the best in the industry!