When it Comes to Curving, No One Does it Better than IMETCO
The first U.S. manufacturer to curve symmetrically designed structural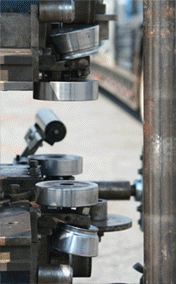 panels, IMETCO is able to achieve the tightest curves in the industry and curve longer panels than most.
IMETCO offers several curving options, including a standard convex curve, a concave "reverse" curve, and a continuous and smooth concave-to-convex "S" curve.
These extraordinary S-shaped panels are truly a sight to behold as your eye travels along the reverse-curve radius and continues seamlessly along the tangent to the standard convex curve. These unique capabilities gives designers even more creative options to achieve this dynamic aesthetic.
Curving Long Panels? IMETCO's Field Curving Capabilities Are Second to None
IMETCO's field formed and field curved panels offer the same warranted, proven performance as those manufactured in our plant. This video shows field forming and field S-curving of Series 300 metal roofing panels on the Slidell Municipal Auditorium in Slidell, LA.
Contact your IMETCO representative for more information about factory or field curving.