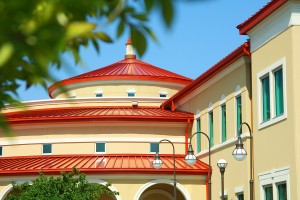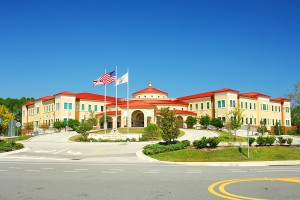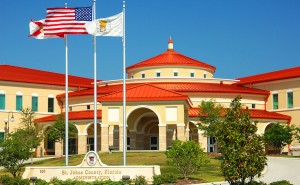 Project Location:St. Augustine, FL

Architect:

PQH Architects, Inc., Jacksonville, FL

Installer:

Laser Line, Inc. Metal Roofing, Casselberry, FL

Products Used:
Series 300 tapered metal roofing
PermWall metal wall panels
SP Series soffit panels
Materials:
.040 aluminum in IMETCO's "Georgian Brick" painted finish
.032 aluminum in IMETCO's "Georgian Brick" painted finish
Additional Information:
The 100,000-square-foot, $16.5-million St. Johns County administration building and auditorium opened its doors to a welcoming crowd of 200 people in September 2008. The building is home to the commission and administration, and hosts County Commission meetings and other community events. It contains offices for the county attorney, management and budget, building operations, minutes and records, government television, personnel and land management. Three square building sections are joined in the center by a circular public entrance, where Series 300 metal roofing panels are tapered to achieve the design intent.
Unlike the old auditorium, which is less than a mile north of the new site, the new building is elevated to protect it from a Category 3 hurricane storm surge. Designed to meet Florida's Enhanced Hurricane Protection Area (EHPA) criteria, the project required a roofing system that can withstand extreme winds and debris impact. The Series 300 standing seam metal roof system, along with a Perform-A-Deck metal deck assembly from Martin Fireproofing, was selected to provide "near-absolute protection" under a single-source warranty.
The Series 300/Perform-A-Deck system is engineered and tested to withstand extreme wind uplift and debris impact, not only as required for Enhanced Hurricane Protection, but also as recommended by the FEMA 361 Design and Construction Guidance for Community Safe Rooms.
County Administrator Michael Wanchick said, "this building will facilitate greater public access to St. Johns County government and will help to serve the community with increased efficiency and convenience." He added, "the building has been carefully planned and designed for several years, and I want to acknowledge the foresight of previous boards and administrators for their contributions towards such a well-designed community facility."
The building occupies a 30-acre site, which leaves room for three or four more buildings in the future. Mike Rubin, the county's construction director, said, "the predicted life span of this building is 70 years. I predict it will be here for at least 100.